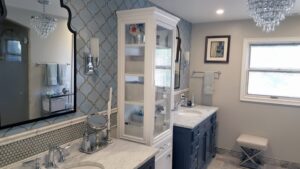 Bathrooms are one of, if not the most, frequently used spaces in the home. Despite their importance, they are still some of the smallest rooms in a house. Within this relatively small space there is a lot going on so it's important to really examine the functionality of the space in regards to how you use it. Before starting your next bathroom remodel, we encourage you to consider the follow questions:
What type of bathroom is it? Is it a master bath, shared family bath or powder room? This will make a huge difference as to how you design it.
Who uses the bathroom? Do you have kids or do guests come over to visit?
Do you plan to grow old in the space? If so, incorporating age-appropriate measures should be taken into consideration.
Are you alone in the bathroom or is someone else in the household getting ready at the same time? If so, how do you interact in the space? Do you have enough privacy?
What about the current layout makes the space uncomfortable? Think ventilation, space, layout, fixtures, etc.
What appliances or fixtures do you use?
Is there enough counter space?
Are there enough electrical outlets?
What are the storage requirements and is there enough storage in the bathroom?
Do you take a bath, shower or both?
Be sure to check-out our gallery for examples of our work.